A Florida man who loved to ski became a co-founder of one of the fastest-growing cities in Utah. John Walden made his money in the insurance business, but he built a legacy by developing the city of Eagle Mountain. 
More than 25 years after incorporation, the city continues to thrive. Despite its short history, people continue to move to the area, thanks to all that it offers—including a growing number of job opportunities, activities, shopping, and more.
Early Development
How did Eagle Mountain come to be? 
Walden was a land developer who purchased vast quantities of land in western Utah County with his business partners, Scott Gettings and Andrew Zorbis. The previous owners were unable to see the same future as Walden, who realized in the early 1990s that a city could thrive in the area. He named it "Eagle Mountain" due to the presence of eagles in the area and worked with the state legislature to get the city incorporated in 1996.
Building a city requires time to convince people to relocate to an area lacking real history, and a slow and steady growth rate characterized the early years of Eagle Mountain. In the early 2000s, the city began to experience a surge in population, partly driven by the availability of affordable new housing and its proximity to bigger cities with job opportunities, such as Lehi and Provo. 
Walden continued to play a significant role in Eagle Mountain's development as a land developer and community leader. There were some growing pains along the way, and Walden was the first to admit that he never envisioned himself as building a city from scratch. However, he always felt that this part of Cedar Valley provided a rare type of beauty that people would fall in love with.
A City's Evolution
No city developer can promise with 100% certainty that their visions will come to life. Many skeptics felt Eagle Mountain would never take off as John Walden wanted. While it's hard to pinpoint precisely when Eagle Mountain turned the corner and began looking less like a suburb and more like a city, the census does help paint a picture.
In 2000, the population was 2,157. Ten years later, it was up nearly 900%, at 21,415 residents. By 2020, the population had more than doubled and was officially listed at 43,623.
The city is now estimated to have around 50,000 residents and counting. Home developments continue to pop up, and Eagle Mountain is doing whatever it can to keep up. The city benefits from several large employers, such as Facebook, Adobe, and the Utah Department of Transportation. Commercial development gives people a reason to stay in Eagle Mountain for their shopping and entertainment instead of driving to bigger cities.
Throughout its rapid expansion, Eagle Mountain has maintained its small-town feel. Early residents built a tight-knit community and a strong sense of civic pride, and newcomers embrace this. With new developments like Silver Lake Park, Eagle Mountain continues to add more amenities as it grows.
The Tiffany Walden Takeover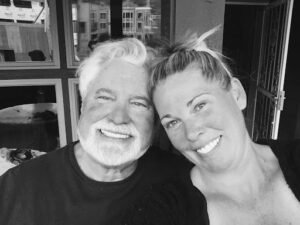 When John Walden's health started deteriorating, he started looking for ways to keep alive his business and vision for the city. In his eyes, no one was a better fit for the job than his daughter, Tiffany Walden. Showing resilience after her formative years in Florida, she had the hunger and desire to embrace Eagle Mountain and build on the Walden family name.
Tiffany Walden first arrived in Eagle Mountain with her son in 2004. She spent the first few years developing a solid work ethic as a waitress, then worked as a spec home manager in the family business in 2008. This was when she started developing her love for real estate and building homes. She handled property development independently for a few years while learning about everything from finances to sewer pipes.
Almost a decade later, pancreatic cancer cut John Walden's life short. Right before he passed away, he formally named Tiffany Walden as his replacement, and she took on the business and city-related responsibilities for Eagle Mountain.
Now six years on her own, Tiffany Walden is as passionate as ever about growing the city and making it into a perfect location for so many. While it's impossible to build an ideal city to fit the needs of everyone, John and Tiffany Walden have made enough right moves to keep the momentum going.
What's Next for Eagle Mountain?
Eagle Mountain's explosive growth is exciting,  and there is still plenty of land for it to grow.
For the city to snowball, the right leaders must be in place to make decisions. Tiffany Walden, now also the owner of Tiffany Homes, has shown over the last few years that she has the same outstanding decision-making skills as her father. She played a role in bringing the highly sought-after Facebook Data Center and several commercial developments to Eagle Mountain.
Walden worked behind the scenes to sell Facebook on Eagle Mountain being the perfect spot for a business offering hundreds of high-paying jobs, outshining the numerous other options. Tiffany Walden believes landing Facebook will make the next big-name industry deals easier.
From the beginning, John Walden's vision was to develop a self-sustaining city, not just a suburb to a bigger city. He saw the potential for Eagle Mountain to attract residents from within Utah and around the country. It's far from a finished project, with great potential for further growth.