Fashion is an extremely important aspect of race. The participants, both women, and men are bound by a specific dress code. The main rule? The elaborate hats are often more like works of art than classic hat types that we can see on store shelves. Ladies compete in creativity by composing their outfits for races, especially when it comes to hats. Hats, toques, fascinators, and headbands reign supreme. The fanciful shapes, textures, and designs are better. Races is definitely an event where ladies can give free rein to their creativity.
Headbands for races? Of course!
In the past, mainly hats and fascinators dominated, but recently headbands have become extremely popular for races. No wonder, because they look amazing and come in a variety of designs, colors, shapes, and textures. They are willingly chosen to complement the styling by those ladies who want to emphasize the beauty of their hairstyle. Headbands do not cover hair but are their decoration. These are accessories that you can easily find in online stores such as Axessorize. In their offer https://axessorize.com.au/collections/racewear – you will find satin, velvet, suede and plush padded headbands, bejeweled with beautiful rhinestones, crystals, pearls, and studs. In addition to the headbands, Axessorize also offers beautiful hats and fascinators. They are so beautiful that it is difficult to take your eyes off them. In the rich offer, regardless of your preferences, you will definitely find something for yourself.
How to choose headbands for races?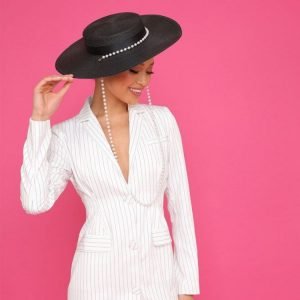 Horse racing is a one-of-a-kind event. Here it is headwear that plays the main role. That is why ladies, when thinking about styling for races, start with the head. Headbands for races have a very strong styling accent. They are elegant, richly decorated, and eye-catching. In the first place, make sure that they blend in nicely with your hairstyle, creating one consistent whole with it. Then choose the outfit. Remember that if your styling already has one strong accent which is a headband, your outfit should be rather plain, without additional decorations, so that a styling conflict does not arise. Usually, the race dress code for ladies includes elegant cocktail-style dresses, women's suits, or skirts, and elegant blouses and shirts. Failure to comply with the elegant dress code is considered a gross indiscretion. You also need to know that each prestigious horse race has its own dress code, which you should read before participating in this type of event.