If you've just welcomed a new puppy into your home, congratulations! Puppies are a lot of fun but require a lot of care and attention. Take a look at this guide for our top tips on caring for your new puppy.
Take your puppy to the vet.
Your puppy's first veterinarian visit is typically a lengthy one. Puppies require certain vaccinations and preventive treatments, which are usually covered under puppy insurance plans. If you haven't enrolled in a pet insurance plan, you should do so as soon as possible to help mitigate future vet costs. Coverage and deductibles vary between plans, so do thorough research before settling for a plan.
Puppies need to be spayed or neutered if they haven't been already. A veterinarian will also check the puppy's body for potential injuries and diagnostics and any medical history they may have. If your puppy was brought in as a stray, your vet might do additional testing to determine the dog's age and previous owner. This initial visit is the perfect opportunity for you to ask questions about puppy training, how to raise a puppy, and what illnesses you should look out for.
Establish a predictable routine.
When raising a puppy, it's important to establish a routine and stick to it. This means creating a schedule for feeding, watering, and potty training. Feeding your puppy at the same time each day will help him develop regular bowel movements while giving your puppy water at the same time every day will help prevent accidents. As for potty training, you'll need to set aside time each day to take your puppy outside so he can relieve himself. Be sure to praise him when he does the right thing, so he'll know what you expect from him.
Train your puppy early and often.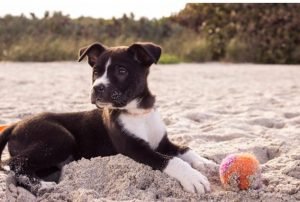 It's crucial to start off on the right foot by teaching your puppy good habits and behaviors. Start by establishing strict rules for things like chewing, bathroom breaks, and how much freedom is allowed indoors versus outdoors. Be consistent with these rules and enforce them when necessary. Start house training early, as a young puppy is much easier to train than an older one. Begin housetraining as soon as you bring your puppy home by taking them outside regularly after meals and naps, and praise them when they go potty in the right spot. Dogs that know basic obedience commands are also easier to manage overall than those that don't, so teach them to sit and stay immediately.
The same concepts apply to crate training. If you have to leave your puppy alone during the day, establish a crate routine early to help them get acquainted and comfortable. Start by placing toys in their crate and guiding them inside. Leave the crate door open so they don't feel trapped and don't forget to praise them for sitting quietly in their crate. Eventually, your puppy will see the crate as comforting rather than scary.
Provide physical and mental stimulation.
Some easy ways to provide physical stimulation for your puppy include playing fetch, taking them for walks, and letting them run around in a fenced-in area. It is also important to make sure your puppy gets enough exercise. Puppies should get at least one hour of exercise per day. Mental stimulation can also be provided in many ways, like giving your puppy puzzles to solve. Plenty of different puzzles require your puppy to figure out how to get to the treats inside. You can also hide treats or toys around your home for your puppy to find. Keep in mind that each puppy is different and will need different types of physical and mental stimulation. So, experiment and find out what works best for your puppy.
There are a few key things to remember when caring for a new puppy – overall, these tips will help create a healthy and happy environment for the puppy. Puppies need plenty of exercise, socialization, and training; and should be fed a high-quality diet. Properly caring for a new puppy will help ensure a long and happy life together.