Video games have come a long way since they first hit the market. Today, they are one of the world's most beloved forms of entertainment, and it's easy to see why. 
But with so many different games available, which are indeed the most played and loved? This article will explore some of the most popular and well-loved games that reign supreme among players worldwide.
It's an article that will bring popular games, which are good, correct, and worth playing, in-depth reviews, and opinion reviews. How does this game play? Is the story interesting? Find the root cause. Why is the game popular? 
Coming up quickly, we will publish an article to update the gamers. Get information to keep up with game news moving in the industry all the time. If you are a fan of playing games and want to find out what it is. Don't miss out on our websites like Torrify.
Top 5 Most Played Games 
Video games have become an integral part of many people's lives. Whether it is for entertainment, relaxation, or education, there are a plethora of games available to play. But which ones are the most played and loved? Here is a list of the top 5 most played games that gamers love to play: 
1. Minecraft 
Minecraft is one of the most popular and beloved games in the world. Developed by Mojang and released in 2011, it has become a cultural phenomenon that has taken over the gaming industry. Its unique blend of building blocks, exploration, creativity, and combat make it an incredibly engaging experience for players of all ages.
In 2020 alone, Minecraft sold more than 200 million copies worldwide, making it one of the most successful video games ever created. It's no surprise why so many people love this game and make it one of their top 5 favorites.

With its wide array of worlds to explore and endless possibilities for customizing your character or environment, Minecraft provides endless hours of entertainment without feeling repetitive or boring. 
2. PlayerUnknown's Battlegrounds (PUBG)
With the rise of mobile gaming, the popularity of PUBG has skyrocketed. This battle royale game is an online multiplayer that puts a hundred players against each other in a fight to be the last one standing. 
In PUBG, players can join individual or squad games and are dropped into large maps where they must scavenge for weapons, ammo, and supplies while evading their opponents. 
PUBG is, without a doubt, one of the most popular and beloved video games around today. The game has achieved critical acclaim due to its intense, action-packed gameplay and stunning graphics, resulting in millions of downloads worldwide. 
It recently won several awards, including Esports Game Of The Year at The Game Awards 2018, cementing its place as one of the top five most played and loved games. 
3. Grand Theft Auto V 
Grand Theft Auto V, or GTA V, is one of the most popular and enjoyable games. It was released in 2013 to critical acclaim and commercial success. It has become the second highest-selling video game ever, with over 95 million copies sold worldwide.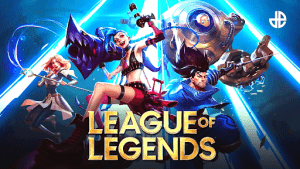 GTA V is an action-adventure game set in the fictional state of San Andreas, where players take on the role of a criminal who must complete missions and make money from illegal activities. Players can explore an expansive open-world environment full of vehicles, weapons, hidden items, and more to discover. 
The game also features online play allowing up to 30 players at once for co-op or competitive missions. With its unique mix of crime drama storytelling and exciting gameplay elements, it's no wonder Grand Theft Auto V continues to be one of the most beloved games around today! 
4. Roblox
Roblox is one of the world's most popular and well-loved gaming platforms. This online multiplayer game has been around since 2006, and its popularity has continued to grow. Boasting over 164 million active users every month, it's no surprise that Roblox is among the top 5 most played games globally.
Players can join together to create limitless virtual worlds and adventures and access various user-created game titles with different genres, from horror to racing. Whether you're an experienced gamer or a rookie, there's something for everyone on Roblox! 
With over 15 million titles created by users worldwide, Roblox offers something for just about any game fan. From classic platformers like Jailbreak to creative experiences such as Build A Boat For Treasure – the possibilities are endless! 
5. League of Legends
League of Legends, or LoL, is one of the world's most popular and beloved games. Developed by Riot Games in 2009, it has become a global phenomenon with millions of players around the globe. Not only is it an incredibly successful video game, but it also has spawned a massive esports scene and its animated series.
League of Legends is a Multiplayer Online Battle Arena (MOBA) where each team consists of five players who battle to control the opposing team's base while defending their own. 
There are over 140 champions that can be used to create unique strategies that keep the game fresh and engaging for long-time fans and new players alike. With its competitive PvP action and deep customization options, League of Legends stands out among other MOBAs as one of the most played and loved games. 
Conclusion
The conclusion of this article has been a look at the five most played and beloved games of all time from https://torrifys.com/. From all-time classics like Pac-Man to more recent hits such as Fortnite, these five games have stood the test of time and continue to be popular among gamers. 
Each game offers something unique and exciting, capturing an audience that ranges from casual players to hardcore enthusiasts. The overall takeaway is that no matter what type of gamer you are, there's sure to be something in this list for you to enjoy! 
The gaming industry continues to evolve with new technologies and genres appearing every day, but some titles will always remain favorites. Whether you're a fan of classic arcade-style games or modern competitive shooters, there's a game in this list that holds a special place in your heart.