Nomi Prins is an investment analyst, author, and former Wall Street insider. She now publishes her work via a firm called Rogue Economics and she recently did a presentation where she was talking about a $4 Liquid Energy stock that five billionaires are buying.
The presentation was basically pitching Nomi Prins' Distortion Report because in order to find out more about the stock, you have to sign up for it. In this piece, we take a look at the stock and why Nomi is speaking so highly of it.
After reading this you will be informed enough to know what the Distortion Report is about so that you can decide whether or not you should subscribe to the newsletter.
What is Liquid Energy Technology?
Nomi Prins' presentation is about what she calls liquid energy. NoBSIMReviews.com published that Nomi claims Richard Branson, Michael Bloomberg, Bill Gates, Jack Ma, and Jeff Bezos are all backing a tiny $4 stock behind this new technology because it has the potential to ignite a $130 trillion new energy revolution.
Nomi says that Liquid Energy has nothing to do with wind, biomass, hydrogen, tidal power, solar, or geothermal (but this is technically incorrect because you will find that there is a correlation between the technology she is touting and these sources).
Besides the renewable energy sources, she also says that liquid technology doesn't involve oil, coal, or other fossil fuels and that it is 100% environmentally friendly and safe.
In the presentation, Nomi Prins does a small demonstration where she has two blinking lights.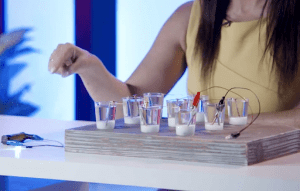 On one side, she has one blinking light powered by a Lithium-ion battery. She says that it is what Elon Musk is betting Tesla's future on because it powers every single Tesla electric vehicle.
The Lithium-ion battery transformed Tesla from a small company into the most valuable car company in history.
Tesla doesn't just use these batteries to power cars. They offer energy storage solutions to homes, businesses, and even the grid. Nomi says that Tesla's reliance on Lithium-ion batteries is part of Elon Musk's master plan to turn Tesla into the "biggest company" the world has ever seen.
On the other side, she has a liquid in a cup also powers a blinking light. She says the aforementioned billionaires are betting this liquid will be the battery of the future.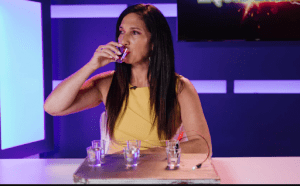 Unlike what's inside a Tesla battery, this liquid is completely non-toxic. It doesn't have lithium, cobalt, nickel, or any other exotic battery materials that are toxic and expensive yet it can produce electricity.
On top of that, while lithium in Tesla batteries costs about $150 a pound, this liquid costs just 5 cents a pound. In addition to that, while Tesla batteries may spontaneously combust, the liquid isn't.
It can also recharge instantly instead of taking hours and stores energy up to 94% cheaper than Tesla's lithium-ion technology.
Even the United States Department of Energy calls it a "breakthrough" and "a totally new approach to battery technology"
For all these reasons, Nomi Prins believes that liquid energy technology is "Tesla's worst nightmare" that will "change everything about battery technology." Therefore, it may disrupt Tesla's business significantly.
Nomi isn't the only investment analyst making these predictions either, Jim Rickards another guru known for his controversial outlooks on the economy has to echo similar concerns.
How Liquid Energy Works
Liquid energy technology is a means of storing energy. Nomi thinks that it is better at this than existing battery technologies because you can recharge instantly while being 94% cheaper than lithium-ion batteries.
With the new liquid energy technology, new batteries are made of a few parts; you have a positive and negative electrode and a fluid inside the battery called an electrolyte to transfer charges. All this is in a closed container that holds everything
While the typical battery is "closed," liquid energy batteries are "open," allowing for instant recharging.
How is this significant or even advantageous?
When you have a closed battery, you have to plug in a charger to charge it, a process that takes 3 to 4 hours, just like charging your cell phone.
Compare that with open battery that enables you to have instant recharging. This entails changing the part of the battery that holds the charge: the electrolyte. The solid parts of the battery, which include the electrolytes remain intact. That leads to significant cost savings – and instant recharging.
Limitations of Liquid Energy Technology
Although they have all those advantages, Nomi Prins admits that today's liquid energy batteries have some downsides. This should explain why Tesla is still the dominant player in batteries with its Lithium-ion batteries.
One of the downsides of liquid energy batteries is that they can't deliver a massive amount of energy quickly. For example, they can't accelerate a car as fast as the conventional battery.
They are also very heavy. Therefore, they cannot be used in cell phones, small electronics, and cars.
However, even with these challenges, they can be used for grid energy storage. When storing energy for a power grid, the batteries don't move around so weight doesn't matter.
Grid energy storage is particularly crucial as we embrace renewable energy sources like wind, solar, and others because these tend to be intermittent. This means that they are inconsistent necessitating storage solutions that make them feasible.
So, Nomi Prins thinks that companies that are involved in the production of liquid energy batteries can make for a good investment opportunity.
The $4 Stock To Back in the Liquid Energy Trend
Nomi Prins says that five of today's biggest and best-known billionaires are buying a $4 stock that is part of a $130 trillion new energy revolution.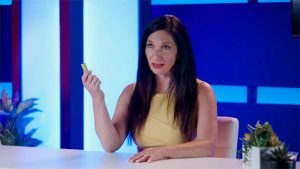 The five are Jeff Bezos, Bill Gates, Richard Branson, Michael Bloomberg, and Jack Ma. They see an investment opportunity in "liquid energy" because if the technology takes off, it could provide substantial energy to people and businesses around the world.
The $4 company could compete with Tesla because it is involved in making the open battery. In the process, it will derail Tesla's plans for the future while transforming the future of the planet.
By backing that company, Nomi says that the five billionaires are betting against Elon Musk's battery technology because they think the new "liquid energy" will be a superior alternative to Tesla's battery technology.
To recap, here are the advantages that liquid energy has:
These batteries can be fully discharged without damaging the batteries, which is alwyas a challenge for lithium-ion batteries. Therefore, they are expected to have a longer lifespan because they can be cycled up to 20,000 times without suffering significant damage. Meanwhile, a closed battery can handle around 2,000 times when working well.

Open batteries also run longer, 10 hours at a time, more than double the 4-hour run time of a closed battery.

They are non-toxic and have no lithium, cobalt, nickel, or other exotic battery materials that are expensive.

While Lithium-ion batteries cost around $150 per pound, these ones cost $0.05 (5 cents) per pound and they can store energy up to 94% cheaper than a Tesla lithium ion battery
Besides the billionaires who are betting on the technology and its potential to change the world, other major investors are also going all in on this technology.
Nomi Prins has put all the details about the liquid energy and how it works in her report called Liquid Energy: The #1 Stock for the $130 Trillion Energy Revolution. You need to subscribe to Distortion Report and receive the report for free.
What is Distortion Report?
Distortion Report is a monthly financial newsletter published by Rogue Economics. It is headed up by Nomi Prins, who is its chief editor.
When you sign up for Distortion Report, you get:
Annual Subscription to Distortion Report:

Every month, Nomi Prins along with her team scour the markets for new investment opportunities and send their analysis to subscribers.

24/7 Access to the Members-Only Website:

You gain access to a members-only website where you can access the latest issue of the newsletter, the latest guides, and all the perks of your membership.

Nomi's Breaking News Alerts:

When Nomi spots a new opportunity, she tells subscribers about the opportunity. She also occasionally shares her investment research and breaking news analysis with subscribers.
When you subscribe to Distortion Report, you get bonus reports included with your ordinary subscription. Then there are the eBooks, additional guides, and other information on additional investment opportunities.
Bonus Report #1: Liquid Energy: The #1 Stock for the $130 Trillion Energy Revolution:
This is the report we mentioned earlier. It has details concerning the small $4 stock that some billionaires are buying. According to her, that stock could become part of a $130 trillion energy revolution.
When you subscribe to the newsletter, you get the name and tickers symbol of the stock and the reasons why Nomi believes the stock is worth investing in.
Bonus Report #2: Energy and Income: Six New Dividend Stocks for 2022
In this report, you uncover some of Nomi's favorite dividend stocks for 2022 in the energy sector. She believes that they can deliver income regardless of market conditions. Such companies includes the ones that deal with crude oil and operate power plants.
Nomi thinks that investors have an opportunity to pick up stocks that pay huge dividends at bargain prices. She is a fan of them because they pay consistent profits to investors.
Nomi is focusing on energy stocks for their ability to give you consistent income as an income investor. She says that today's energy companies are at the cusp of the $130 trillion energy revolution. New technologies like liquid energy are coming up to replace fossil fuels as they usher in the transition to green energy over the coming years and curb the rise in energy prices. Oil prices have been rising over the past few years.
Nomi thinks that as the world transitions away from fossil fuels like liquefied natural gas as natural gas prices go up, the best energy companies will find ways to innovate so investors who buy the right energy companies will capitalize on this growth over the coming years. For example, ExxonMobil has gone up as high as 40% and its dividend is almost 4% as oil and gas prices have gone up (it has also been striving to become a diversified energy company by looking into renewable resources).
Energy dividend stocks could be the play for the next few years. Dividend stocks help you earn consistent returns on your investments.
Bonus Report #3: The #1 Political Stock of the Decade
Nomi Prins thinks that as an investor, you should buy the same stocks as US politicians when you get the chance because over the last few years, politicians have been buying stocks based on information they know before the general public.
For example, there was a scandal in 2020 where several members of the United States Senate were implicated for violating the STOCK Act by selling stocks at the beginning of the pandemic. Those moves enabled them to sidestep losses as markets collapsed.
Nancy Pelosi's husband has often been cited as an example of someone who's benefited from his wife's position as the Speaker in the House. He bought millions of dollars' worth of Nvidia stock before a vote on a chip manufacturing bill, which enabled him to make a lot of money.
Nomi Prins argues that ordinary Americans don't have access to the same information as US politicians so she recommends trying to follow their lead.
In this report, she wants you to emulate the politicians in cashing in on The $1.2 Trillion Infrastructure Law. President Biden signed a $1.2 trillion infrastructure law that calls for massive infrastructure improvements across the United States.
She reveals the name and ticker symbol of one company she thinks will profit from this bill. She thinks that multiple members of the United States Senate purchased this stock in 2021, and they earned more returns than they would from Tesla, Apple, and bitcoin over the last few months. Nomi says the company is "poised for even bigger explosive growth in the months and years ahead."
Distortion Report Pricing
Distortion Report normally goes for $199 per year but if you sign up through the link provided at the end of the presentation, you will pay $49 for your first year, then $129 per year thereafter.
You can also save $100 on your second year subscription by signing up for a 2 year subscription today. You will pay $98 for your first two years ($49 per year), then $129 per year thereafter.
Your subscription automatically renews at $129 per year and Rogue Economics will send you an alert before renewing your subscription.
Distortion Report Money-Back Guarantee
The Distortion Report has a 60 day moneyback guarantee. This allows you to request a complete refund on your purchase if you do so within 60 days of signing up, no questions asked.
If you request a full refund within 60 days, you get to keep the bonus reports as a thanks for trying the subscription.
Who is Nomi Prins?
Nomi Prins is an investment guru who works for a research company called Rogue Economics.
She has a Ph.D. in International Political Economy, which allows her to understand how politics influence the markets. She has used these skills on Wall Street where she used to work for JP Morgan Chase, Bear Stearns, and Goldman Sachs.
When she left Wall Street, she was making a million dollars a year. She left because she didn't like how the elites were taking advantage of the little guy over and over again.
Nomi Prins is a published author and has written seven books. Her works expose ordinary main street Americans to what she believes is Wall Street's unfair advantage; a concept she calls "The Great Distortion." She has also made appearances on Fox Business, CNBC, Bloomberg, PBS, and CSPAN.
Rogue Economics
Rogue Economics is the financial publishing company that publishes Nomi Prins' work as well as the works of other investment analysts who publish their work targeting retail investors. The company was founded to help ordinary investors look beneath the surface at Wall Street and big government to know how the business and financial worlds really work.
Rogue Economics publishes a couple of free and paid newsletters. They include Distortion Money Matrix, Energy Distortion Monitor, Inside Wall Street with Nomi Prins, and Rogue Strategic Trader, just to mention a few.
Verdict on Nomi Prins Liquid Energy Stock
Nomi Prins believes that there is a liquid energy technology that may disrupt Elon Musk's ambitions with Tesla because it is better than Lithium-ion batteries particularly when it comes to grid energy storage. Such technologies will grow in importance as the world seeks to move from fossil fuels like crude oil, natural gas and natural gas liquids to renewable sources that tend to be intermittent.
She says that five of the world's biggest billionaires and massive investment firms and funds have invested in a $4 company at the forefront of the liquid energy technology.
All that is meant to entice you to sign up for Nomi Prins' Distortion Report. They will provide you with full details about the exciting new liquid energy technology if you read a report that they are only sending out to members.
Unfortunately, the presentation doesn't have sufficient information we'd use to know what company Nomi is talking about. Therefore, the only way to get it is to sign up for the $49 (first year only and $129/yr after) newsletter.