Hello, 2022!
The new chapter of our life '2022' begins; it's the perfect time to embrace the new change and lead the track with New Year resolutions. Perhaps, you want to hit the gym, be a better cook, or take a fun vacation with pals. But have you racked your brain about getting your wardrobe in check? Because let's be honest: your style is what will make you stand out from the crowd.
And guess what! Many A-list designers support women's passion for fashion with their exclusive range of dresses and gowns. Among them, Mac Duggal leads the spot!  
As a popular and trailblazing fashion line, Mac Duggal dresses and gowns are perfect for updating your fashion game to new brilliance in 2022.
But before you infuse the magic of Mac Duggal into your closet, run by this list of style resolutions to kick start the New Year:
Resolution 1: Invest in Statement Pieces
Each year is full of special occasions, events, and celebrations. Having statement pieces in your wardrobe can add an instant touch of sizzles to your favorite Mac Duggal dress, making you the showstopper of all galas you've been invited to.
From a sequin clutch to a faux fur coat and dangler earrings, you can invest in distinct statement pieces of your choice to transform your entire look. After all, they are those eye-catching essentials that will create personalized essence and give a standout touch to your outfit. 
Resolution 2: Stay On The Frontline Of Trends
Do you wish to create buzz about your style game all around? Then, get on board with 2022's newfangled fashion trends for women: asymmetrical formal gowns, beaded dresses, ombre sequin gowns, floral prints, bishop sleeves, slits, cutouts, and more. 
If you want to seize all of these Avant-garde styles from the one designer line, look no further but Mac Duggal's collection. Being one of the most sought-after names in luxury couture and evening wear, they bring in voguish dresses and gowns for women of all ages, shapes, and skin tones. 
When in doubt, take inspiration from your favorite celebrities or dig deeper into fashion magazines, social media and website blogs about how to stay stylish. The informed tips and tricks by experts will surely help you elevate your fashion sense.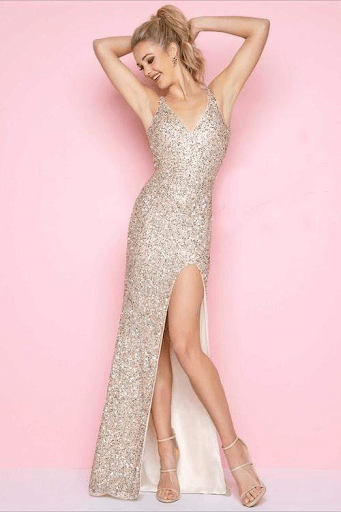 Resolution 3: Play With Colors
No doubt, black and white are love, but you should go bold this year with slashy pops of pink and pastels, especially when you've to hit the carpet on special nights like prom. You can easily grab them in the assortment of Mac Duggal gowns and dresses in a plethora of styles. 
In addition, you can also get a thrill out of warm and friendly hues like blue, emerald green, marigold yellow, cherry red, pure white, and coffee brown. They are the #1 color trends of 2022, seamless to build carefree confidence and a joyful attitude.
Resolution 4: Stop Playing Safe
Enough of you wearing the one style on repeat! This new year, make a pact with yourself to have fun with fashion. 
Just step out of your comfort zone and try sassy Mac Duggal dress styles, including flutter sequin cutout gown, long draped a-line gown with a slit, bow ornate strapless gown, plunging high-low dress, and more.
Designed with care for modern fashion mongers, these Mac Duggal styles will make you Belle of the Ball – just like you dreamed of.
Resolution 5: Take Advantage Of Sales And Discounts
If you think that luxurious and stylish pieces always cost a fortune, you are mistaken. You can definitely take pleasure in designer dresses at affordable prices. All you need is smart shopping skills.
The key is to take advantage of seasonal discounts and clearance sales that most designer stores organize from time to time. Speaking of your best-loved Mac Duggal gowns and dresses, you can snap them on sale at authorized online fashion stores. 
Just remember, fashion is a statement of mind and not price value.
Resolution 6: Embrace Outfit Planning
Believe it or not, but your approach to fashion and styling matters. If you don't organize your outfits ahead of time, you'll end up messing up your wardrobe and room in a panic. 
It is why you should aspire to be more organized in 2022. Promise yourself that you will give your all to outfit planning. Invest in the rack to hang your weak ensembles on, all ironed and ready to go.
Your one wise step can eliminate a great deal of stress when you will be in a hurry to dress up and head out. 
Resolution 7: Accessorize With Perfection
Never forget accessories, we repeat: never! Accessories can even transform a simple into super stunning. So, whether you are dolling up for a special occasion, a night out with your pals, or just a normal workday, ensure to put on coordinating accessories that enhance the appeal of your outfit.
However, don't go overboard or pile accessories all in at once, especially when you wear an embellished Mac Duggal evening dress for a party. 
Right accessories in the right way are all you need to slay!
Resolution 8: Hold Your Head High; Own Your Look
Accept the fact that not everyone is going to compliment you. Some people may judge your look or maybe not. Whatever be the situation, just hold your head high and own what you have worn. 
Important is – what you feel about yourself! So, never let people's opinions doubt your style, clothes, or makeup.
Once you radiate your confidence, the crowd will automatically agree with your style.
Ready To Spend 2022 In Style?
New Year isn't just a chance to celebrate, but also to bring happy changes in life. So, start relishing the big change by renewing your wardrobe with exclusive Mac Duggal dresses and gowns, and get ready to see the world admiring you for your sassy style game.
Happy New Year: Have A Stylish Year Ahead!