Hello, 2022!
The new chapter of our lives, '2022,' begins; now is the moment to accept the new change and set the direction with New Year's resolutions. Perhaps you want to go to the gym, become a better cook, or go on a fun vacation with your friends. But have you thought about getting your clothes in order? Because let's face it, your style is what will set you out from the crowd.
What's more, guess what! With their exclusive collection of dresses and gowns, several A-list designers promote women's passion for fashion. Mac Duggal takes the top rank among them!
Mac Duggal dresses and gowns, being a popular and trailblazing fashion line, are ideal for taking your fashion game to new heights in 2022.
But, before you bring Mac Duggal's magic into your closet, check out this list of New Year's style resolutions: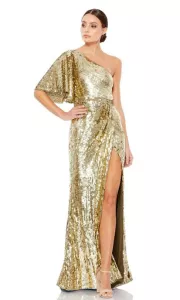 Resolution 1:Purchase Statement Pieces

Every year is jam-packed with special occasions, events, and festivities. Having striking accessories in your wardrobe can instantly add a bit of sizzle to your favorite Mac Duggal gown, making you the star of any galas you've been invited to.
You might invest in different statement pieces of your choice to transform your complete appearance, from a sequin purse to a faux fur coat and dangler earrings. After all, these are the eye-catching basics that will give your outfit a personalized flavor and a standout touch.
Resolution 2: Keep Up With Trends
Do you want to spread the word about your fashion sense? Then, embrace the latest women's fashion trends for 2022, such as asymmetrical formal gowns, beaded dresses, ombre sequin gowns, floral prints, bishop sleeves, slits, cutouts, and more.
Look no further than Mac Duggal's collection if you want to capture all of these avant-garde designs from a single designer line. They bring in glamorous dresses and gowns for ladies of all ages, shapes, and skin tones as one of the most sought-after names in luxury couture and evening wear.
When in doubt, look to your favorite celebs for inspiration or dive deep into fashion publications, social media, and online blogs for tips on how to stay stylish. Experts' informative ideas and tactics will undoubtedly help you improve your fashion sense.
Resolution 3: Color Experiment

Without a question, black and white are trendy, but go wild this year with slashy splashes of pink and pastels, especially when it comes to special occasions like prom. You may easily find them in the collection of Mac Duggal gowns and dresses in a variety of designs.
Warm and cheerful colors such as blue, emerald green, marigold yellow, cherry red, pure white, and coffee brown can also excite you. They are the top color trends for 2022, with the ability to create careless confidence and a joyous attitude.
Resolution 4: Don't Play Safe
Enough of you repeating the same look! Make a resolution to have fun with clothes in the new year.
Simply venture outside of your comfort zone and attempt a sassy Mac Duggal dress style, such as a flutter sequin cutout gown, a long draped a-line gown with a slit, a bow-embellished strapless gown, a plunging high-low gown, and more.
Designed with modern fashionistas in mind, these Mac Duggal fashions will turn you into the Belle of the Ball – just as you imagined.
Resolution 5: Avail the Discounts
You are wrong if you believe that expensive items that are fashionable are constantly in demand. Designer clothing is absolutely available at reasonable pricing. All you need are smart shopping techniques.
The secret is to take advantage of clearance sales and seasonal reductions, which most designer boutiques occasionally host. Speaking of your favorite Mac Duggal gowns and dresses, you may purchase them at discounted prices from reputable online clothing retailers.
Just keep in mind that style is more about attitude than it is about value.
Resolution 6: Plan your outfits in advance
Whether you like to admit it or not, your sense of style and fashion counts. If you don't prepare your outfits in advance, you'll end up panicking all over your home and wardrobe.
You need to be more organized in 2022 because of this. Make a commitment to yourself to put your all into wardrobe planning. Invest in a rack to hang for perfectly ironed and prepared slack outfits on.
When you're rushing to get dressed and go out, one smart move might relieve a lot of stress.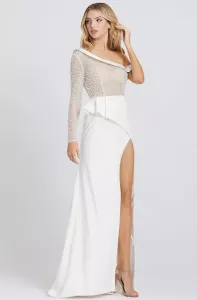 Resolution 7: Complete Your Accessory Game
Never forget the accessories! Accessories can even make something plain look incredibly beautiful. Therefore, whether you are getting dressed for a formal event, a night out with your friends, or just a regular workday, make sure to use complementary accessories that enhance the appeal of your ensemble.
However, when wearing a Mac Duggal embroidered evening dress to a party, avoid going crazy or adding too many accessories at once.
Resolution 8: Own Your Look
Recognize that not everyone will find anything positive to say about you. Some individuals might or might not judge your appearance. Whatever the circumstance, simply keep a positive attitude and feel proud in your appearance.
What you think about yourself is important! So never let others judgments of your personal taste in fashion, makeup, or style.
Prepared to have a stylish 2022?
The start of a new year presents an opportunity for celebration as well as for positive life improvements. Start celebrating the huge change by updating your wardrobe with chic dresses and gowns from Mac Duggal, and get ready for the world to start praising your sassy fashion sense.
Happy New Year: Have a stylish new year!