A well-known couple in the entertainment business is campaigning for change in response to the inequalities they believe the American judicial system imposes on different socioeconomic levels.
David Murrietta Jr., an actor, social media influencer, and model, and his wife, Ukrainian actress Alexandra Creteau, are taking a stand and using their popularity to raise awareness about crucial societal issues such as unequal chances, racism, and prejudice.
Murrietta and Creteau wish to draw attention to the practice of the legal system, including instances in which wealthier individuals are able to buy their way through the court system, gaining favors through connections and receiving lenient sentences while those in more disadvantaged situations are forced to pay the price.
Creteau stated that this is one of the key reasons the couple agreed to speak with the New York Post for a piece on the ongoing criminal investigation into the murders of model Christy Giles and architect Hilda Marcela Cabrales Arzola in Los Angeles.
According to the couple, while on set for a shoot, actor Brandt Osborn told Murrietta and Creteau that he and two friends, David Pearce and Michael Ansbach, were partying with Giles and Arzola, who he claimed were doing drugs that evening. According to the couple, Osborn then left for a little time and returned home to find Giles dead, and the three men planned to dump her body outside of a hospital in Culver City. When they returned to the apartment, they discovered Arzola had a low pulse and drove her to a different hospital, where they abandoned her, according to the couple. Arzola died later, and all three men were arrested.
"We also discussed it because there are so many women in similar situations, and we wanted to raise awareness about it and support victims' families by releasing information," Alexandra Creteau stated. This type of thing can happen to anyone, whether the victims are from Hollywood or a small town elsewhere in the world."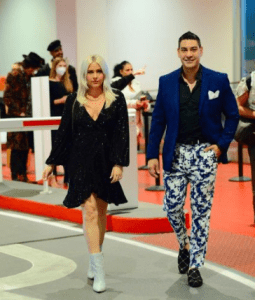 Murrietta is familiar with the court system, having worked in law enforcement before a serious knee injury prevented him from continuing in that capacity. He also has degrees in criminal justice and business administration. Murrietta works as a stuntman, and his most recent appearance was in the Marvel film "Black Widow." He's also an actor, having appeared in shows like "Grey's Anatomy" and films like "Taps."
Murrietta's latest role as Moose in that film changes him into a grieving father for his kid who died after suffering from Post Traumatic Stress Disorder (PTSD), another critical topic among veterans that he is passionate about.
"The debate on this issue should continue, and any effort to assist veterans should be embraced," Murrietta added.
Creteau, an 18-year-old former Karate champion, has appeared in "American Horror Story" and "X-Men: New Mutants." Creteau's most recent film, "The Memory Scanner," hits home the hardest for her as she plays a neuroscientist fighting to reform the criminal justice system. Creteau hopes that when the film hits theatres later this year, the message about the current status of the American judicial system will be heard.
"Especially the way it's stacked in favor of the wealthy and famous," she said.
Some high-profile cases involving well-known personalities, such as Alec Baldwin and Travis Scott, have divided the U.S. justice system.
In addition to their acting talents, Murrietta and Creteau are active on social media, regularly updating their Instagram fans.
(@alexandracreteau and @david_murrietta) and collecting over 11,000 YouTube subscribers, Dalex Vlogs.
The couple plans to use their social media following to educate the public and to continue their mission of being a voice for victims of social injustice.
Creteau is inspired by numerous celebrities who use their popularity to fight for change, particularly in the fields of climate, sustainability, and gender equality, as well as raising awareness about the importance of mental health and involvement in movements such as Black Lives Matter.
Off the clock, Murrietta and Creteau serve in the community, providing food and clothing to the homeless and assisting at animal care facilities and mobile adoption events.
"Our presence in the entertainment sector can help us and others in becoming a stronger voice for change," Creteau explained.