A notable couple in the entertainment industry is advocating for change regarding the inequalities they believe the American justice system exercises toward different socio-economic classes.
Actor, social media influencer and model David Murrietta Jr. and his wife, Ukrainian actress Alexandra Creteau are taking a stand and using their visibility to bring about awareness regarding critical societal issues they see with unequal opportunities, racism and discrimination.
Murrietta and Creteau want to call to attention the practice of the legal system, including instances where wealthier individuals are afforded the opportunity to buy their way through the court system, finding favors through connections and receiving lenient sentences while those in more disadvantaged situations are forced to pay the price.
That is one of the main reasons, Creteau said, that the couple chose to speak with the New York Post for a story covering the ongoing criminal investigation of the deaths of model Christy Giles and architect Hilda Marcela Cabrales Arzola in Los Angeles.
The couple told the news source that while on location for a shoot, actor Brandt Osborn told Murrietta and Creteau that he and two friends, David Pearce and Michael Ansbach, were partying with Giles and Arzola, who he said were using drugs that evening. The couple said Osborn then said he left for a brief while, returned home to find Giles dead, so the three men decided to dump her body outside of a hospital in Culver City. When they returned to the apartment, they found Arzola with a weak pulse, so drove her to a different hospital and left her there, the couple told The Post. Arzola later died, and all three men were arrested.
"The other reason we talked about it was that there are so many women in similar situations, and we wanted to bring awareness to it and help victims' families by coming forward with information," Alexandra Creteau said. "Justice should be served when things like this happen. This type of situation can happen to anyone, whether the victims are in Hollywood or any small town in the world."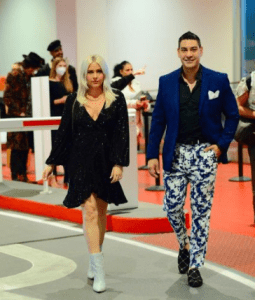 Murrietta is familiar with the justice system, having served in law enforcement before a significant knee injury left him able to continue in that line of work. He also holds degrees in criminal justice and general business. Murrietta performs as a stuntman, his most recent role being in the Marvel film, "Black Widow." He's also an actor, starring in television shows like "Grey's Anatomy" and movies including "Taps."
His latest role as Moose in that movie transforms Murrietta as a grieving father for his son who died after experiencing Post Traumatic Stress Disorder (PTSD), another important issue among veterans that is dear to his heart.
"The conversation around this cause should stay alive and any effort to help veterans should be encouraged," Murrietta said.
Creteau, a former Karate-do champion at the age of 18, has acted in roles for "American Horror Story" and "X-Men: New Mutants." But her latest film, "The Memory Scanner," hits home the most for Creteau as she plays the role of a neuroscientist working to overhaul the criminal justice system. When the film reaches the big screen later this year, Creteau hopes the message is heard regarding the current state of the American justice system.
"Particularly how it is rigged in favor of the rich and famous," she said.
Creteau also noted that the film comes at a time when opinions about the U.
buy aciphex online https://blackmenheal.org/wp-content/languages/new/aciphex.html no prescription

S. legal system are divided in some high-profile stories involving well-known figures, such as Alec Baldwin and Travis Scott.
In addition to their acting careers, Murrietta and Creteau are active on social media, updating followers on Instagram (@alexandracreteau and @david_murrietta) and gaining more than 11,000 subscribers to their YouTube channel, Dalex Vlogs.
The couple intends to use their social media following as a way of educating the public and continuing their quest to be a voice for victims of social injustice.
Creteau said she is inspired by many celebrities who use their fame to advocate for change, especially in the areas of climate, sustainability and gender equality as well as bringing awareness to the importance of mental health and the activism in movements like Black Lives Matter.
Offline, Murrietta and Creteau spend time volunteering in the community, distributing food and clothing to the homeless and helping at animal care centers and mobile adoption events.
"Our visibility in the entertainment industry can help us and others become a stronger voice for change," Creteau said.