Introduction
EdbMails's OST Converter software overview
Most important features of EdbMails OST Converter
Use Cases of EdbMails OST converter
Step-by-step guide to use EdbMails OST to PST converter
Concluding Thoughts
Introduction
In the case of Microsoft Outlook, the data file formats OST and PST are utilized to store a local copy of mailbox contents present on the Exchange or IMAP server. For security reasons, the MAPIEntryID GUID is used to encrypt an OST file, but not the PST. Servers and MAPI profiles store the encryption key in their system registry. As a result, only authorized MAPI profiles can access an OST file and an Outlook OST file cannot be simply opened or accessed using any other Outlook profile from another PC. In layman's terms, the Outlook profile is linked to a specific online account and is kept up to date with that account by synchronizing with it.
In the event that an OST file becomes inaccessible, damaged, or orphaned it is still possible to convert it into PST format using a dedicated OST to PST conversion program. Outlook users can then import the PST file and access the mailbox items after the conversion has been performed.
You can use EdbMails OST Converter software to convert an OST file that is unavailable, disconnected or orphaned into a PST file. Using this tool, you can also import the file directly into an Office 365 account, or a live Exchange server. Here, we'll explain EdbMails OST to PST converter, its capabilities, and how it is utilized. Continue reading the review to find out more about this software program.
EdbMails's OST Converter software overview
With the help of EdbMails OST to PST Converter, you can convert OST files to PST, which has earned several positive reviews and is regarded as an industry standard software. Contacts and calendar information are all accurately and precisely extracted from OST files before being stored in the PST format by the software. That being said, this procedure does nothing to modify the file's content.
You can use the software to convert encrypted or password-protected OST files into PST files without needing any encryption key for the purpose. In addition to the standard PST format, the software also supports saving files in MHT, HTML and EML formats.
When a user's profile or mailbox is deleted from the Exchange server and there is no backup available, the software can restore mailbox data from the OST file. Outlook OST files can be used to transfer mailboxes to another PC and restore the deleted items.
Most important features of EdbMails OST Converter
EdbMails OST Converter software is available in three different editions (Personal, Corporate Premium and Technical Edition) to suit the requirements of different uses. We list the most important features and highlights of the Personal Edition followed by the Corporate and Technical Edition of the software tool.
1. Personal Edition
Converts all Exchange, Outlook and IMAP OST to PST.
Converts orphaned or unavailable OST files to PST files
Allows converting both small and large sized OST files to PST without size restrictions.
Encrypted OST data is extracted and saved to PST without needing any key.
Allows saving an OST file into different formats such as MHT, EML and HTML.
Sort and Preview email data before you start the conversion.
Use different filters to convert selected mail items of your choice.
It is compatible with all Exchange Office 365 and Outlook 2007, 2010, 2013, 2016, and 2019 versions.
Allows you to use the PST split option for splitting oversized OST files into multiple smaller PST chunks.
Customized license plan for Home and Personal use
And many more..
2. Corporate Premium Edition
All the features of Personal Edition included
Direct import of OST files into an Office 365 or live Exchange server.
Allows installing the software on multiple computers present in a single location such as office building, library and so on.
Customized license plan for corporates, enterprises, business units, Government and Educational Institutions.
3. Technical license Edition
All the features of Corporate Premium Edition included
Allows installing the software on multiple computers as well as in different locations.
Customized license plan for Data Recovery Firms, Computer Maintenance, Repair Shops and Units
Use Cases of EdbMails OST converter
Convert inaccessible OST files: Your mailbox or email profile may be removed from the Exchange server, or Outlook may fail to function due to a corrupted OST file. When Outlook is unable to open an inaccessible OST file in such scenarios, EdbMails Converter for OST can assist.
Solve Outlook Profile Disconnection:When sending or receiving emails, your Outlook profile may occasionally get disconnected or show Send/Receive problems. That's because there's a problem with Outlook's OST file (Outlook Data File). Use EdbMails to recover and convert OST to PST which you can then import back in Outlook.
Migrate Exchange server mailboxes:If your Exchange server fails or crashes, you can use this software to restore and recover user mailboxes and mail items to another Exchange server.
Import mail data to an Office 365 account:The OST to PST converter software fixes all of these problems by exporting the OST mailbox items to Outlook's PST format. Outlook import/export wizard fails or the user loses access to OST mailbox, it assists Outlook users. Aside from Outlook profiles, the product allows users to move mailboxes between Exchange servers and Office 365 accounts directly.
Step-by-step guide to use EdbMails OST to PST converter
Using EdbMails OST to PST converter software, you can convert an OST file to a PST or other file type.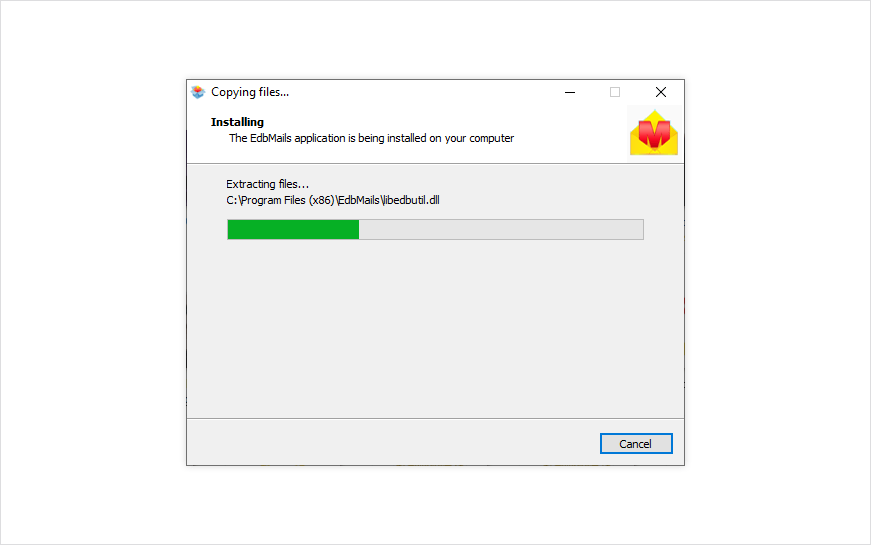 Download the EdbMails software from the official website. We highly recommend you to first use the trial version, discover your requirements and then go with one of the aforementioned license plans.
The free version allows you to test all the features at your leisure without time limits. Once you install and open the software, select the option Start Your Free Trial to proceed. If you have purchased the license, simply enter the email address you used during the purchase to login to the application. (EdbMails does not require any activation or serial key for the purpose).
Select the OST file by clicking the Browse button. The software first recovers the contents and displays all
the contents in a highly organized tree-view hierarchy.
You can sort and filter the results based on numerous factors, such as Subject, From, To, Attachments, Body, Date, etc., using the Filter Options to find certain mail items.
Click on the Export to PST button after you've selected all the required items, mailboxes and folders.
Verify the selected items, browse for a location to save the PST file and start the conversion process.
After the conversion is complete, click OK to exit the dialog box and view the log file for detailed information on the conversion process.
Additional Option: You can also select 'Migrate to Live Exchange ' or 'Migrate to Office 365' and input your account login credentials, to directly import OST to Office 365 and live Exchange respectively without any intermediate hops.
Concluding Thoughts
EdbMails OST to PST Converter tool is recommended and trusted by various IT administrators and MVPs. You can use this excellent software to extract mailbox items from disconnected, unavailable, or orphaned OST files, or to back up the mail items to PST format. The tool allows you to preview, recover and even convert deleted mailbox items. By applying the various filter options you can customize the conversion process based on Senders, From Address, Attachments and so on. You can try out the software and all of its features for free by downloading the trial version before making a purchase. No wonder EdbMails has been rated a 5 star product in the industry for its impressive feature set and user-friendly UI.
We have another good news for Exchange and Office 365 users who are looking to manage their email signature centrally for their organization. Sigsync email signatures for Office 365 is one such tailor made solution that assists you exactly with that. You can add tenants and manage signatures for all of them from the single centralized dashboard. It is easy to use and has all the features under the sun that you wish to have. For example, you can add social media buttons, interactive banners, graphical elements or even run targeting marketing campaigns. If this has piqued your interest, we recommend you to visit the official Sigsync website or follow the link above.