Jackson, Wyoming, USA – August 24, 2022 – Exponential, Inc. today announced that it had secured an entry of default against former employee and Chief Technical Officer, Eddie Joel Rios Osorio.
The initial complaint filed in the United States District Court on April 28, 2002 is seeking relief on a total of seven counts, including:
COUNT I: BREACH OF CONTRACT
COUNT II: INTERFERENCE WITH CONTRACT
COUNT III: MISAPPROPRIATION OF TRADE SECRETS
COUNT IV: CONVERSION OF AFFILIATE COMMISSION
COUNT V: CONVERSION OF PLAINTIFF'S RESOURCES
COUNT VI: CONVERSION OF SCORE PREDICTIONS
COUNT VII: REPLEVIN OF SCORE PREDICTIONS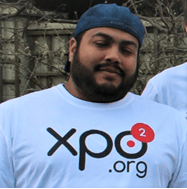 Mr. Eddie Rios Osorio, former CTO for Exponential, Inc.
The complaint states, among other things, that Mr. Rios stole software products and trade secrets while employed by Exponential, Inc. and created subterfuges "for the purpose of stealing or replicating Exponential's most valuable digital assets, such as algorithms, web sites, prediction modules and widgets."
Mr. Rios also allegedly betrayed the company he was duly employed by after "Mr. Einhorn (Exponential, Inc's President and CEO) expended over $85,000 in visa fees, travel and accommodations, legal fees, certified translations, automobile down payment and rent to accommodate Mr. Rios's desire to work at Exponential's offices in France."
The suit also states that: "As a result of Rios's misconduct and wrongdoing, Exponential has suffered well over $500,000 in damages," damages for which it seeks recovery, in addition to multiple injunctions against defendant Rios.
A copy of the original complaint can be downloaded via this link.
A request for comment by Mr. Einhorn was not immediately returned, but a spokesperson for the company stated that "Dom Einhorn is looking for a swift resolution to this matter, which has caused enormous grief to the company and to Mr. Einhorn personally, who feels deeply betrayed by the extent of the fraud and deception that was uncovered, with underlying subterfuges that had been running for many years."
A serial entrepreneur and technology investor, Dom Einhorn recently founded a sports technology platform by the name of CXSports that aims to assist amateur to semi-professional sports leagues, teams and athletes with digital sponsorship and monetization solutions.