Keeping your files organized in a well-logical structure of folders and utilizing a consistent approach while naming them will help you a lot but this will probably leave you with a more unwieldy system that takes a long time to navigate. It would be far more helpful for you if you use the color code system to organize your folders on Windows PC.
Now, you must be thinking, how can we color code folders in Windows? Don't worry, we are here to help you. In this guide, we are going to discuss how you can change the folder color using the best Windows folder color changer "Folder Colorizer 2". So, let's begin!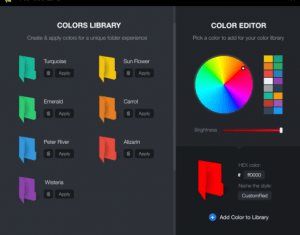 Changing Folder Color in Windows 10/11 Using Folder Colorizer 2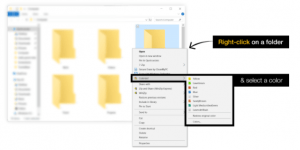 Folder Colorizer 2 is an app that helps you refresh your Windows PC. Instead of having the regular pale yellow folders, it lets you color them according to your choice. To show you how it is done, here is a step-by-step guide on how to change the folder colors in Windows 10/11 using the Folder Colorizer 2.
First things first, you need to download the Folder Colorizer 2 from the Softorino website and follow the on-screen instructions to install it on your Windows PC. The Folder Colorizer 2 runs smoothly on Windows 7 and above versions.
After you are done with the installation, you need to right-click on any folder and you will see a new color option which is named "Colorize!". This option contains tons of color that you can choose to assign to the folder of your liking.
In order to assign a custom color, you need to click on the Colors Button at the bottom of the menu > choose any shade you like > tap on Add Color to Library > and Hit Apply.
Once you have picked a color for the folder, it will take just about 0.67 seconds and the folder will be colorized. If you are not satisfied with the folder you chose, you can always restore the folder color to original by clicking on the "Restore the Original Color button".
This is it, that is all you need to do in order to change folder color on Windows 10/11 using the best Windows folder color changer Folder Colorizer 2.
How You Can Purchase Folder Colorizer 2?
Softorino gives you two options to purchase the Folder Colorizer 2: the first one is that you can buy the one year license of the app for $9.95 and the second one is that you can subscribe to the Softorino Universal License, which comes at the cost of $2.92 per month. The Universal License includes all the current and future projects of Softorino software for Mac and Windows.
In order to give you a better understanding of the Softorino Universal License, it is a singular way that can give you access to all the Softorino apps such as Folder Colorizer, WALTR PRO, SYC 2, iRingg, and more.
The best thing about the Universal License subscription is that it lets the users use all the products of the company at $2.92 instead of $300 (cost of all the products). Now, it is up to you which option you choose.
Final Verdict
Windows 10/11 have greatly improved since Windows 8 and it is easier to use but still, it does not let you assign a customized color to your folder and files. This is the reason why we have made this guide to help you assign different colors to the desired folder and organize your files in a more fun way.
If you are still unsure about how to change the folder colors using the Windows folder color changer Folder Colorizer 2, then we suggest that you download the software on your Windows PC and try the process by yourself to see how intuitive it is to change the colors of the folders with this application.