It will be very helpful to keep your files organized in a logical folder structure and to name them properly, but doing so will likely result in a system that is more complicated to use. You would find it much more beneficial if you used the Windows PC's color-coding system to organize your folders.
You're probably wondering how we can color-code folders in Windows at this point. In this article, we'll go over how to use the finest Windows folder color changer, "Folder Colorizer 2". So, let's get started!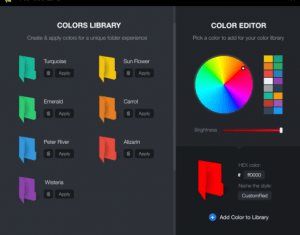 Changing Folder Color in Windows 10/11 Using Folder Colorizer 2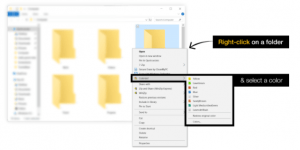 A Windows PC refresher program is called Folder Colorizer 2. It allows you to color the folders any way you'd like rather than using the standard pale yellow color. Here is a step-by-step tutorial on how to use Folder Colorizer 2 to alter the folder colors in Windows 10/11.
The Folder Colorizer 2 must first be downloaded from the Softorino website and installed on your Windows PC by following the on-screen directions. Windows 7 and later versions simply operate The Folder Colorizer 2.
Once the installation is complete, you need to right-click on any folder to reveal a new color option called "Colorize!" You can select to assign this option's vibrant colors to the folder of your choice.
Click on the Colors button at the bottom of the menu, select your preferred shade, tap Add Color to Library, and then hit Apply to assign a custom color.
It will take just 0.67 seconds for the folder to be colored once you have chosen the color for it. If you're not happy with the folder you selected, you can always click the "Restore the Original Color" button to return it to its original color.
To change the color of a folder on Windows 10 or 11 using the best Windows folder color changer, follow the simple instructions :
How To Purchase Folder Colorizer 2?
You have two alternatives when buying the Folder Colorizer 2 from Softorino: first, you may pay $9.95 for the app's annual license, and second, you can pay $2.92 per month to subscribe to the Softorino Universal License. All of Softorino's present and upcoming Mac and Windows software projects are covered by the Universal License.
To help you understand the Softorino Universal License, let me explain that it is a single method of gaining access to all of the Softorino applications, including Folder Colorizer, WALTR PRO, SYC 2, iRingg, and others.
The Universal License subscription's biggest feature is that it allows customers to use all of the company's products for $2.92 instead of $300. (cost of all the products). Which option you select at this point is up to you.
Final Verdict
Although Windows 10 and 11 are far better than Windows 8 and are simpler to use, you are still unable to give your folders and files a custom color. For you to assign various colors to the desired folder and arrange your files in a more enjoyable manner, we created this guide.
If you're still confused about how to use the Windows folder color changer Folder Colorizer 2, we advise that you download the program to your computer and give it a go on your own to see how simple it is to alter the folders' colors using this program.