The Windows operating system is the most used software in the world. According to Microsoft, there are 1 billion computers with active Windows as their operating system. And, to do the Microsoft Software installation and for it to work correctly afterward, every Windows product needs a Windows key and a product ID.
So users need to understand what they are and how they differ in case you have problems related to any of them. That's why we prepared a small guide to help you understand how both Windows operating system product keys and product IDs work.
A Windows product key is a unique combination composed of 25 characters in the format (XXXXX – XXXXX – XXXXX – XXXXX – XXXXX). This product key is necessary to activate Windows properly and binds your machine to that Windows license.
As mentioned, this product key is unique. If you lose it, you won't be able to activate Windows or even reactivate it with the same key. To reinstall Windows, then, you will need a new product key. It's possible to use a version of Windows without a product key, but some features may be unavailable.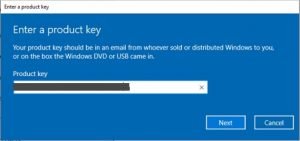 Note that if you install Windows from scratch (a clean installation), using installation media on a computer with a Windows system pre-installed, there will be no need for a product key. Your "new copy of Windows" identifies the old retail copy used.
How to Find your Windows Key?
There are several methods to find your Windows activation key on your working computer after your Windows version has already been downloaded. We will discuss some of them.
PC Registry
The product key is stored on the registry of your PC. You can start looking there. Just mind that if you bought a device with a pre-installed version of Windows, sometimes the key used won't work again. This means you will find the product key useless and won't reinstall Windows using it.
If that is the case, you don't need to worry about paying a lot for a new Windows product Key. You can get safe and working Windows keys for the best prices on the market at RoyalCDKeys!
Through Command Prompt
This is the second way to find your product key. To access it, press Windows to open the start menu of your system and type "cmd." Click the command prompt and type the following command "wmic path softwareLicensingService get OA3xOriginalProductKey."
Through BIOS
To get your product key through BIOS, you will need to download the OEM Product Key Tool. After you run the program, it will scan your BIOS and find your product key. After you get it back, it would be good to store it somewhere safe.
Windows Product ID
Besides the product key, there's also the product ID. If the first one works to activate Windows, this second is used to identify the channel which originated the software. Unlike the product key, the product ID is not unique. This means that several computers may have the same code.
Another way the product ID differs from the product key is the way the code is presented. Here, the five sequences of five characters give place to a different one, composed this way: ( XXXXX – XXX – XXXXXXX – XXXXX).
This happens because Microsoft provides different licenses through different channels, considering different users' demands. Some examples are OEM keys, Retail Keys, or Volume keys. All of these types differ, giving access to a different Microsoft customer service, for instance.
Getting Your Product ID
It is pretty simple to get your product ID. Look for the "This Computer" option on the start menu or the files explorer. Then right-click it and go for properties. There, you should find information about your computer and your Windows license. Among them is your product ID. Mind that the type of license you have will be specified at the very end of the code.
How Important Are Product Key and Product ID?
As mentioned before, your Product Key is extremely important, and if you want to use Windows 11 the right way and be sure that there will be no problems, you must keep it safe. Losing it won't make it impossible for you to use Windows but will limitate the software options.
On the other hand, your product ID, besides being easy to find, is far more important for Microsoft itself. Customers reach Microsoft looking for support, and this is how they know exactly the type of service they must provide you. For us, it is useful information but nothing more than that.
Conclusions
Now, you already know the difference and how to find both types of keys on your Windows system, which may be important for you in case of problems with your software. For more tips, information, and guides about Windows and other software, check our blog section.